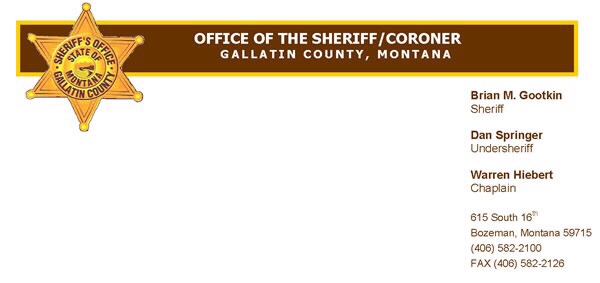 (Gallatin County, Mont.)  On Thursday January 10, 2019 at 5:38 p.m., the West Yellowstone Police Department Dispatch center received a 911 call reporting one lost and stuck snowmobiler. Three males were snowmobiling in an extreme backcountry area and became separated.  Two riders made it out to a safe location, and contacted 911 to report their friend missing and presumed stuck.  They were able to provide an approximate GPS location for the last known location of their friend.  They also reported that their friend had no overnight survival gear or any type of light source.
The lost snowmobiler, a 29 year-old male from Minnesota, was last reported in the Red Canyon area, 16 miles northwest of the Town of West Yellowstone. The GPS location showed the terrain to be very steep and heavily wooded.
Personnel from the Sheriff's Office Search and Rescue in West Yellowstone responded.  A group of eight rescue personnel responded on snowmobiles to the GPS location provided.
Rescuers made verbal contact with the man approximately four hours after the initial call.  Due to the hazardous terrain and deep snow conditions, the rescue teams needed another hour to reach him.  The male was uninjured and rescue personnel were able to load him on one of their snowmobiles and ride him back out to safety.  That ride back out took rescue personnel another two hours.  His snowmobile is still on the mountain.
Gallatin County Sheriff Brian Gootkin would like to remind snowmobilers to be careful when recreating off trail and to know your limitations.  A fun adventure into the amazing backcountry areas can quickly turn into an emergency situation.  Always remember to ride with a partner, stay with your partner, carry a reliable means of communication in case of an emergency, and be prepared to survive the night if needed.