The 2019 Gallatin County Spelling Bee will be held on Saturday, Feb. 23 at 9 a.m. in the Hager Auditorium of the Museum of the Rockies in Bozeman.
One of the oldest academic competitions in the area, the bee features the top spellers in grades 4 through 8 from all public and non-public schools in the county, representing a field of over 6,000 contestants.
Sixty spellers from over 40 public, private and home schools will compete for the top three places and a chance to represent Gallatin County at the Treasure State Spelling Bee to be held in March in Billings.
Local radio and newspaper columnist Chrysti "The Wordsmith" Smith will be pronouncing and numerous prizes will be awarded. Judges include Bozeman Daily Chronicle Arts and Culture Editor Rachel Hergett, Gallatin County Treasurer Jennifer Blossom, and Belgrade School District Trustee Mary Ellen Fitzgerald.
The Gallatin County Spelling Bee is sponsored by Bozeman Bowl, Bozeman Amateur Hockey Association, Bozeman Daily Chronicle, Dairy Queen, Edible Arrangements, MacKenzie River Pizza, and U-Swirl. The public is invited to attend. For more information, contact Gallatin County Superintendent of Schools Matthew Henry at (406) 582-3090 or by email at superintendentofschools@gallatin.mt.gov.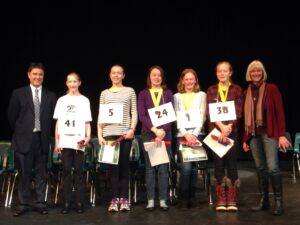 Photo courtesy Gallatin County Superintended of Schools:
Gallatin County Superintendent of Schools Matthew Henry, left, is joined by the top five finishers at the 2019 Gallatin County Selling Bee and Chrysti "The Wordsmith" Smith, far right.