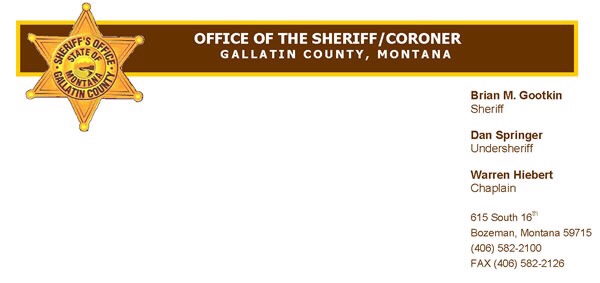 (Gallatin County, Mont.) Saturday at 10:25 am, Sheriff's Search and Rescue, Bridger Canyon Fire Department, and an American Medical Response ambulance responded to a backcountry rescue on the Drinking Horse Trail.  A 32 year-old-man was hiking with his wife and dog when he slipped off a steep, icy section of trail and fell about 30feet.  He suffered injuries to his head,including lacerations and losing consciousness. His wife called 911 for help. 
Rescuers hiked to the man, provided medical care including treatment for hypothermia.  Due to the steep, icy terrain, rescuers had to rig a rope to get the man back up to the trail.  He transported him to the trailhead on a specialized rescue litter where he was taken to the hospital by ambulance.
          Sheriff Gootkin would like to remind winter backcountry enthusiasts to always be prepared.  Even a short excursion can turn into a prolonged event when the unexpected happens.  Carry enough clothing and survival equipment,including a means of communication and fire building materials, to spend the night in the outdoors if you have to.