Release:  180424-01
Contact:  Patrick Lonergan, (406) 582-2395
Residents Encouraged to Prepare for Spring Flooding
Bozeman, MT – Residents in Gallatin County are encouraged to develop a plan on how they will protect their property in case they are affected by spring flooding.  As Gallatin County approaches our usual spring flood season, several contributing factors exist that could lead to flooding affecting homes and property.  As Patrick Lonergan, Gallatin County Emergency Manager explains, "We won't know for sure if we will be adversely affected by flooding beforehand, however we have several contributing factors primed to support extensive flooding.  We have had significant moisture in the valley floors that is now melted, but the soil in many places appears to be saturated with limited capacity to absorb more water.  This means most new water will flow across the surface of the ground seeking someplace to go.  Additionally, we have a large amount of water contained in the mountain snowpack that we saw the first sign of melting last week.  These are both contributing factors that can lead to flooding that affects our community."
The part that is unknown is how quickly the mountain snowpack will melt.  The Gallatin Valley typically sees flood impacts when we get a quick temperature change to very hot weather that also keep the night time mountain temperatures above freezing allowing the snowpack to melt continuously.  When this is compounded with significant rainfall like we often see in late spring, the mountain snow pack often overwhelms the small tributaries carrying the water to the main stem rivers and we see flooding.  "The question that we don't know is how quickly the mountain snow pack will melt, and unfortunately we won't know that until shortly before those weather patterns occur.  However we know the risk factors exists and now is a good time for people to prepare," according to Patrick Lonergan.
People in areas near any sort of waterway are encouraged to spend a little time and develop a plan on how they will protect their property should they be affected by flooding.  Waiting until you see flooding begin will almost certainly put you behind the curve in protecting yourselves.  The difference between high water that you're watching and a flooding situation that is affecting you is a very fine line which often changes very quickly with the highest water levels occurring in the middle of the night.
Unfortunately people are often caught off guard when their property seems fine one moment and they return home, or get up in the morning, and discover their property is flooded.  Officials highly encourage people around waterways to closely keep a watch during high waters and monitor the current weather.  Everyone is highly encouraged to register in the Community Notification System so officials can provide geographic warnings when we see a wide spread issue developing.  A couple minutes spent registering the addresses you care about and how you want to be alerted will help emergency officials ensure they can provide timely warnings directly to those who are affected.  Learn more and register at https://www.readygallatin.com/community-notification-system.

Time spent beforehand developing a plan on what you would need to do to stop or divert water, what needs to be moved to prevent damage, and where you will obtain supplies is often time well spent.  As Patrick Lonergan explains, "If you think you are going to be affected by flooding, you should act now.  Once flooding occurs, the damage is already done and it is often challenging to limit further damage."
Information on utilizing sand bags, or plastic wrapped bales, for diverting water is available at https://www.readygallatin.com/flooding.  The best source for bulk sand bags is Bozeman Brick and Tile on Jackrabbit.  We also encourage property owners to keep an eye on waterways to keep them clear of debris allowing as much water as possible to stay in the waterway.  This includes ditches and culverts that often cause issues when they get plugged.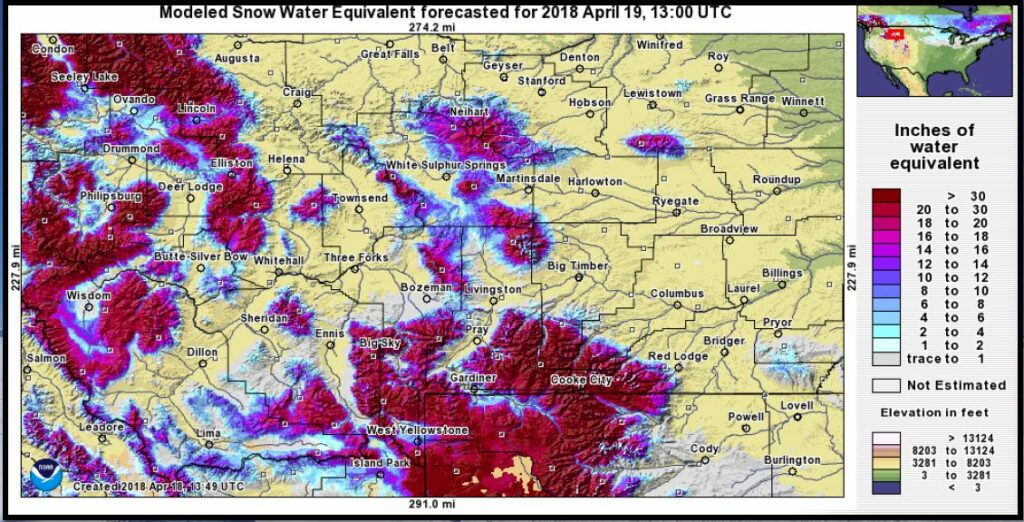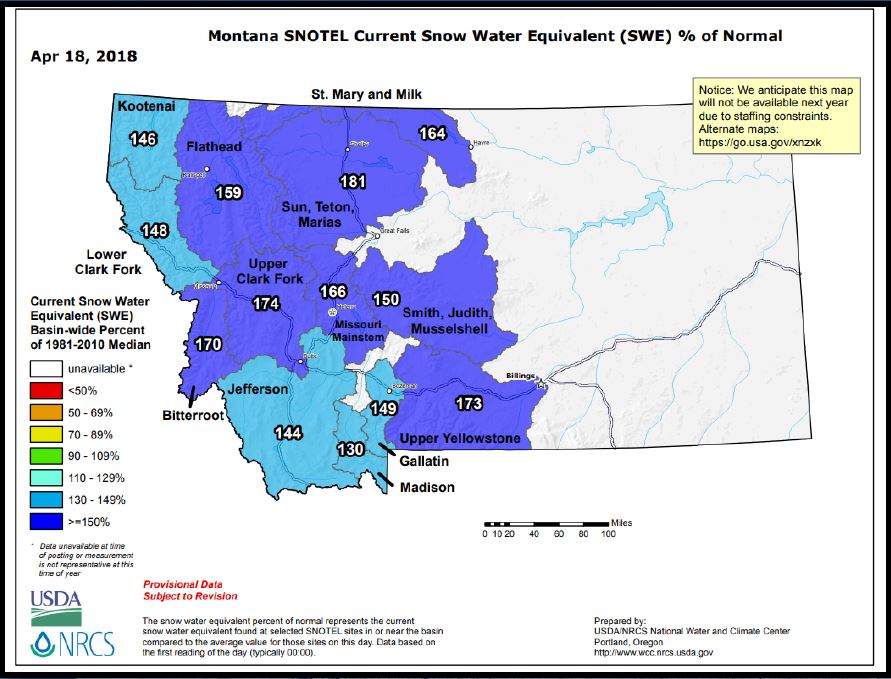 Models Courtesy of the National Weather Service.
###