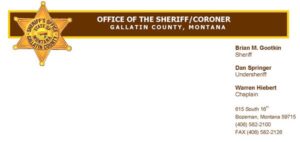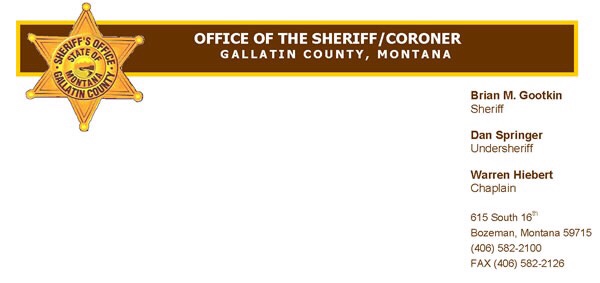 Montana Law Enforcement Memorial Ceremony, May 8
10:00-11:00 Honor Guard will be posted at the memorial sites near Three Forks for local officers who have been killed in the line of duty:
Broadwater County Sheriff's Deputy Mason Moore – Highway 287
 Trooper David DeLaittre – Montana 2
The public is invited to stop at the sites and pay their respects.
10:30 A marked procession of law enforcement vehicles will start near Wheat Montana, then go past both memorials and through Three Forks. The public is invited to watch the procession.
1:00 – 2:00 Ceremony at the Commons at Baxter and Love. The public is encouraged to attend. The Program is attached.
This is an annual statewide event to honor all current and former law enforcement officers and pay tribute to the courageous men and women who have lost their lives protecting us. It rotates around the state and last year it was in Havre. This year it is in Gallatin County to honor Deputy Mason Moore. It is hosted by the Gallatin County Sheriff's Office, Bozeman Police Department, and the Montana Highway Patrol. All local law enforcement agencies are participating in the ceremony and 500-700 people are expected to attend, including law enforcement agencies from around the state.
The National Law Enforcement Memorial Ceremony is at the National Peace Officer's Memorial in Washington DC on May 15. Mason Moore's family, Broadwater County Sheriff Meehan, and members of the Broadwater County Sheriff's Office will be attending.
Contact:
Capt Jeff Wade, Gallatin County Sheriff's Office, (406) 582-2131
Sgt Travis Munter, Bozeman Police Department, (406) 548-5707
Sgt Pat McLaughlin, Montana Highway Patrol, (406) 579-3943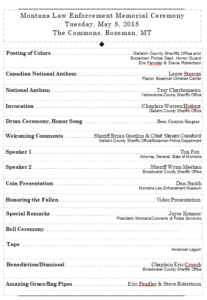 ########