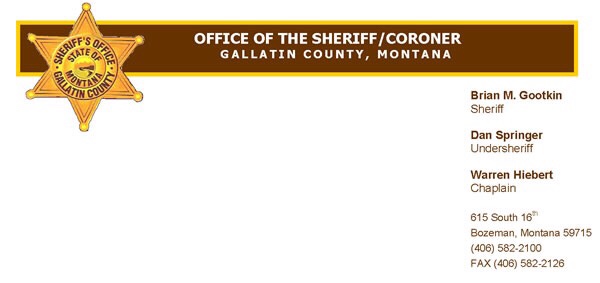 NATIONAL DRUG TAKE-BACK INITIATIVE
Nationwide last fall more than 4,200 local and tribal law enforcement partners had a record-setting
912,305 pounds—456 tons—of potentially dangerous expired, unused, and unwanted prescription
drugs brought for disposal to more than 5,300 collection sites. That is almost six tons more than
what was collected at last spring's event. This brings the total amount of prescription drugs collected
by DEA since the fall of 2010 to 9,015,668 pounds, or 4,508 tons, (November 07, 2017, DEA Public
Affairs).
Upcoming Prescription Drug Take-Back Day
Saturday, April 28, 2018
615 S. 16th Ave.
Law & Justice Center
Bozeman, MT
10:00 am– 2:00 pm
The Missouri River Drug Task Force is partnering with the Alcohol & Drug Services of
Gallatin County, Community-Coalition On Drug Awareness, Bozeman Elks Lodge #46,
theMontana Elks Drug Awareness Program, and the Drug Enforcement Administration
(DEA) for this National Prescription Drug Take-Back Day. This is a great opportunity for those who
have missed the previous events, or who have subsequently accumulated unwanted, unused
prescription drugs, to safely dispose of those medications.
PLEASE DO NOT GIVE US:
 NEEDLES & SHARPS,
 THERMOMETERS (MERCURY),
 OXYGEN CONTAINERS,
 PRESSURIZED CANISTERS
 CHEMOTHERAPY/RADIOACTIVE SUBSTANCES