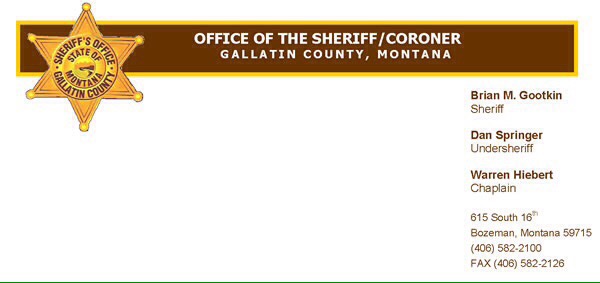 (West Yellowstone, Mont)
Tuesday night at  9:00 p.m. West Yellowstone Police Department Dispatch received a 911 call from a concerned mother. The mother indicated that her daughter had fallen while skiing on the Rendevous ski trail system and sustained injuries to her ribs. The victim, a 23 year old female from West Yellowstone, was unable to stand and was requesting assistance.
Rescuers from the Sheriff's Search and Rescue in West Yellowstone and Hebgen Basin Fire Department responded.
Rescuers located her using the GPS coordinates retrieved from the 911 call as well as descriptors from the patient who stayed on the phone with dispatch until rescuers arrived.  She was packaged on a rescue sled and transported to the trailhead where the rescue team met up with a waiting Hebgen Basin Fire Department ambulance.
Gallatin County Sheriff Brian Gootkin would like to remind skiers that it's always advisable to recreate with a partner in case of such an event. Additionally skiing at night can add danger and difficulty to any rescue operation.