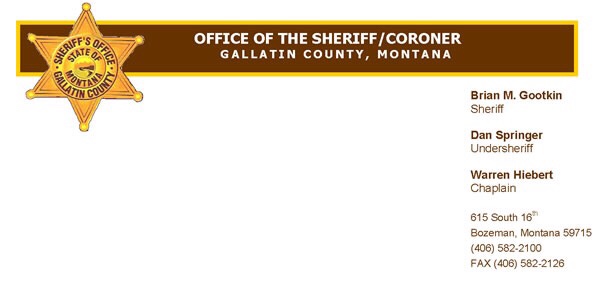 (Gallatin County, Mont.)
This weekend marked the beginning of the end for snowmobile season in the South end of Gallatin County.  The festivities for Snowmobile Expo in West Yellowstone concluded with no rescue calls except for on the race track in town.  However, the beginning of spring break in the valley send Sheriff's Search and Rescue on three calls over the weekend.  A missing person on Sixteen Mile Road Sunday, a reported injury in a Forest Service Cabin on Trail Creek Saturday night and a crashed snowmobile near Fairy Lake Saturday afternoon.  All three calls were completed with no complications.  The Fairy Lake call came in at 3:30 PM when Gallatin County 911 received a call from Park County stating that a woman who spoke limited English was lost or her child was lost.  The call was made on an unregistered cell phone so there was no number available for a call back or data that would tell dispatchers who the phone belonged to.  Location data from the phone call was between Hardscrabble and Sacajawea Peaks.  A Deputy was sent to the trailhead on Fairy Lake Rd and Sheriff's Search and Rescue assets were activated to include Posse, Hasty, Heli, Search Dogs and HAMs.
At the trailhead contact was made with two women who said that a woman had come down to the trailhead on foot asking for help.  They understand that she had crashed her snowmobile and there were two more people (a male and a female) somewhere up the trail.  Two men in the party went up the trail on snowmobiles and met another group of snowmobilers who had seen the two missing people.
Members from the SAR Hasty Team skied up the trail and met the good Samaritans who had located the missing people.  The Hasty team did a quick medical assessment and then they were brought out to the trailhead along with the snowmobile that had been crashed.
While the language barrier made it difficult to put together; it sounds like the original party of four from Puerto Rico had gone up to do some skiing and snowboarding.  They had ridden up the trail to a place where they were going to ski.  The woman who called 911 dropped off her passengers and headed back on the snowmobile to pick up the fourth member of the party.  On the way back to the trailhead, she crashed her snowmobile and hiked back to the trailhead asking for help.  Some local residents out for a day of snowmobiling heard the calls for help and went to assist.
Gallatin County Sheriff Brian Gootkin said "The season isn't over yet but I think we are through the busy time down south.  The Sheriff's Search and Rescue in West Yellowstone Volunteers did a great job this winter.  Hopefully they can get a breather before the start of the summer tourist season."