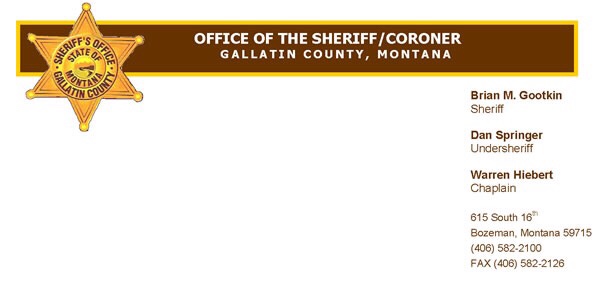 (Gallatin County, Mont.)
Tuesday at 12:33 p.m. West Yellowstone Police Department Dispatch received a 911 call from a snowmobiler reporting that his wife had tipped her snowmobile over on the trail. The 49 year old female from Hamilton Montana, had suffered a possible broken collar bone when the snowmobile she was riding overturned on a corner , ejected and rolled over her.
Rescuers from Sheriff's Search and Rescue in West Yellowstone, Hebgen Basin Fire Department and Forest Service Law Enforcement responded.
She was located on the Madison Arm Trail  5 miles north of West Yellowstone. The injured snowmobiler was loaded onto the passenger seat of a tracked four wheeler and transported safely to rendezvous with a waiting Hebgen Basin Fire Department Ambulance.
Gallatin County Sheriff Brian Gootkin says snowmobilers need to be alert for changing trial conditions and operate at a speed that will allow them to remain in control of the machine. Recent warm weather combined with rain and sleet has created rough and icy conditions on the trail systems.
Photo courtesy of the Sheriff's Office