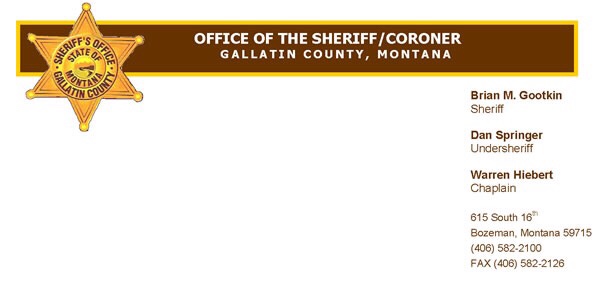 (West Yellowstone, Mont.)
On 02/01/2018 at 11:13 a.m. West Yellowstone Police Department Dispatch received a 911 call from a snowmobiler reporting that his wife, a 53 year old female from Jacksonville Florida, had been injured in a single snowmobile crash.  She had suffered a broken arm and possible dislocated shoulder when the snowmobile she was riding went off the trail and struck a tree.
Volunteer Rescuers from the Gallatin County Sheriff's Office Search and Rescue, Forest Service Law Enforcement and Hebgen Basin Fire Department responded.
Rescuers located the injured snowmobiler approximately 6.2 miles west of West Yellowstone using GPS coordinates retrieved from the 911 call. They loaded her onto a rescue sled and transported her to a waiting Hebgen Basin Fire Department Ambulance.
Gallatin County Sheriff Brian Gootkin would like to remind snowmobilers to ride cautiously while keeping a sharp eye out for changing trail conditions. Heavily used trails tend to become rough and unpredictable. Travel at a speed slow enough to allow you to properly steer your machine away from any obstacle.
Photo courtesy of the Sheriff's Office