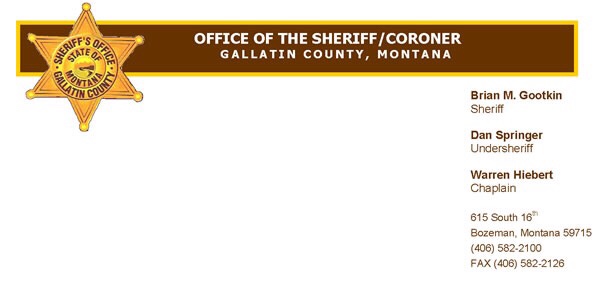 On 01/29/2018, at approximately 2:16 p.m. The West Yellowstone Police Department Dispatch received a 911 call from a snowmobiler reporting that a member of her snowmobiling group was injured. The injured snowmobiler, a 68 year-old female from Idaho Falls, Idaho, had suffered a possible broken ankle when the snowmobile she was riding as a passenger on overturned pinning her leg underneath. The operator of the snowmobile was attempting to maneuver up a slight incline onto a smoother portion of the trail when the snowmobile overturned.
Personnel from the Gallatin County Sheriff's Office, Gallatin County Search and Rescue, and Hebgen Basin Fire Department responded to assist with the rescue.
Rescuers quickly located the injured snowmobiler on the Idaho/Montana border south of West Yellowstone using the GPS coordinates retrieved from the 911 call and assessed her condition. The injured snowmobiler was loaded into a rescue sled and transported safely to West Yellowstone where a Hebgen Basin Fire Department Ambulance transported her to Rexburg for evaluation.
Gallatin County Sheriff Brian Gootkin would like to remind beginner snowmobilers to ride within their skill level and stay on marked trails. Operators should understand that riding with a passenger complicates the operation of the snowmobile by adding weight and hindering maneuverability.