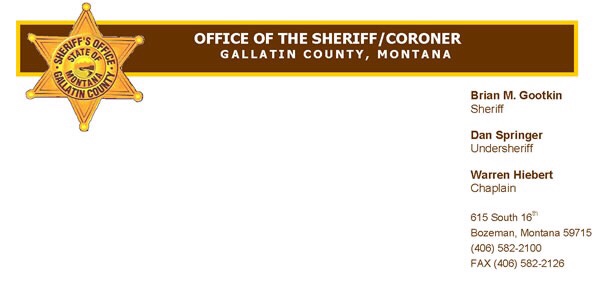 (West Yellowstone, Mont.)  Last Night at 5:26 p.m. West Yellowstone Police Department dispatch received a 911 call from an individual reporting that he and five of his friends had gotten their snowmobiles stuck in a deep gully and were unable to get them out. GPS coordinates retrieved from the 911 call indicated that the snowmobilers were somewhere in Cabin Creek, 19 miles north of West Yellowstone. Due to the difficult riding conditions, expected below-zero temperatures, and 2-3' of new snow in the area, the six snowmobilers from Bottineau, North Dakota were concerned about being able to make it out to the trailhead and requested assistance.
Seven Rescuers from Gallatin County Sheriff's Search and Rescue, West Yellowstone Division, Two Bear Air, and Air Methods medical helicopters were all used to locate the men.
Rescuers proceeded into Cabin Creek in deep snow and located two abandoned snowmobiles. The Rescuers, all world-class riders, found that a trip that can usually be done in an hour took over four hours and they had difficulty accessing the North Dakotans.  Just before the Two Bear and Air Methods helicopters arrived, Rescuers observed three snowmobiles leaving the area to the north.  A Gallatin County Sheriff's Deputy intercepted all six snowmobilers near Big Sky.  They had been able to free three of their snowmobiles, extract themselves from the gully, and ride out 15 miles to the trailhead.
At about the same time, two other snowmobilers were reported overdue after going into the Two Top area west of West Yellowstone. Search and Rescue Deputies were able to retrieve the two out-of-state visitors without the use of rescue volunteers.
Gallatin County Sheriff Brian Gootkin would like to remind snowmobilers to make sure they are prepared for dangerous situations when enjoying Montana's winter backcountry. He commends the North Dakota group for not giving up and finding a way out but cautioned, "Sometimes, when help is on the way, it may be best to build a fire and hunker down. Conditions were very bad last night."  He said conditions in the mountains right now are very difficult for snowmobiling and the avalanche danger is considerable. He advises riders to have enough equipment to survive a night out in harsh conditions if the need arises.
Sheriff Gootkin would also like to extend a special thanks to all the volunteers who gave up time with family celebrating the New Year to brave the cold in search of the snowmobilers.
#####