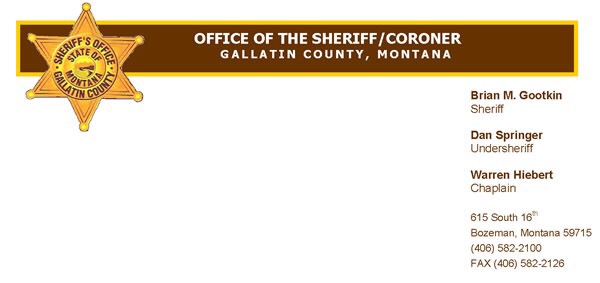 (Gallatin County, Mont.)
At 3:00 p.m. on Tuesday, Gallatin County 9-1-1 received a report from Meagher County Dispatch that three individuals got their pickup stuck on Sixteen Mile Road in the remote North end of Gallatin County, a short distance south of the Meagher/Gallatin County line. While the three males were trying to get their truck out of the snow and mud, one of them, a 55 year old man with a history of cardiac surgery, began experiencing difficulty breathing. His condition worsened and his brother called 9-1-1. Based on GPS coordinates received from the phone call, Meagher County was able to give Gallatin County dispatch an accurate location of the males.
The call was dispatched to Gallatin County deputies, as well as the closest fire departments, and AMR ambulance. Due to the remote location of the incident, Gallatin County Sheriff's Search and Rescue was also dispatched. Sheriff's Deputies activated Reach Air Ambulance, and a medevac helicopter was launched at about 3:15, reaching the men about 15 minutes later. Flight paramedics and nurses evaluated the man and he was transported to Bozeman Health. At last report, the male was conscious and alert, and was admitted to the hospital.
Gallatin County SAR personnel continued to the scene of the stuck vehicle, and met Bridger Canyon Fire Dept., as well as the Meagher County Sheriff's Office and Meagher County Rural Fire Dept. The vehicle was pulled out of the ditch, and the men were escorted out on the long drive back to Bozeman.
Sheriff Gootkin would like to take this opportunity to remind travelers and recreationists to be alert for rapidly changing weather and road conditions, and to be prepared and equipped to spend several hours in less than ideal conditions. Also, a more specific reminder that Sixteen Mile Road is not regularly maintained, and is considered to be impassable during the winter months. In the space of one week, two instances of stuck vehicles led to Search and Rescue operations on Sixteen Mile Road.