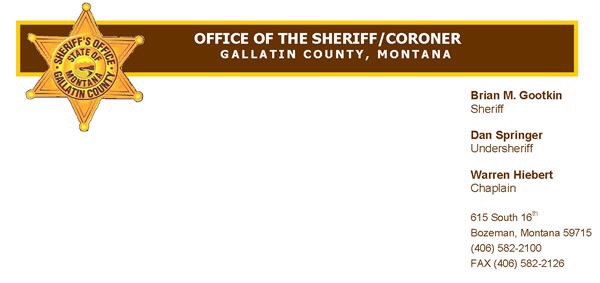 (Gallatin County, Mont.)  Just because the ski hills are not open yet does not mean there is no skiing.  Recent snow fall has lured skiers into the mountains and with that comes the occasional rescue.  Today at about 5:30 P.M. a 19 year old MSU student fell after a jump at Bridger Bowl Ski area breaking his lower leg.  Sheriff's Search and Rescue units were dispatched along with the Bridger Canyon Fire Department and AMR ambulance at 6:00 P.M. after someone found him and made their way to cell service to call 911.  Rescuers used snowmobiles and a rescue sled to transport him the rest of the way down the mountain to a waiting ambulance.
Sheriff Gootkin reminds us that early season skiing carries extra risk.  "Even if you are on a ski area there is no avalanche control or ski patrol until they open later this month.  You have to take that into account and spend the time to get educated and be prepared for emergencies.  Ski with a  partner, carry avalanche gear and emergency supplies."
Photo courtesy of the Sheriff's Office.  Volunteer Rescuers cleaning up and getting ready for the next call after the rescue at Bridger Bowl.