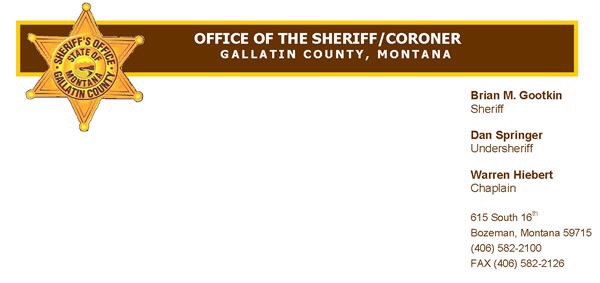 On 11-04-17 at about 8:00 PM, the Gallatin County Sheriff's Office received a call advising of a vehicle, which had slid off the dirt road and was in a precarious position up Little Bear Road. The caller said he had found the occupied vehicle partly off the road with about a 15-20 foot drop off below them. The occupants did not want to get out of the vehicle in fear of the car going over the edge.
Due to the non-specific directions and the need to get help on scene quickly, the Gallatin County Search and Rescue was activated with a Gallatin County Deputy acting as incident coordinator.
As it turns out the vehicle was located not very far up Little Bear Road.  Search and Rescue personnel were able to secure the vehicle and assist the four occupants to safety.  A tow truck was also requested, and upon arrival pulled the vehicle safely back onto the road.
Sheriff Gootkin would like to remind everyone, when going out into the backcountry, whether in a vehicle or by foot always remember how ice can affect the activity your involved in. Please be extra cautious in these icy times of the year.