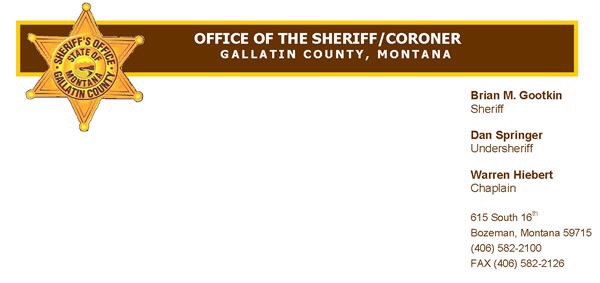 On Sunday, October 15th, 2017, around 6:00 pm, the Gallatin County Sheriff's Search and Rescue Division, the Gallatin River Ranch Fire Department, and an American Medical Response (AMR) ambulance responded to a backcountry rescue.  A 76-year-old Texas man most likely fell on a steep slope above the Gallatin River north of Manhattan.  The man ended up below some cliffs on a difficult to access stretch of the river.  The man had a head wound and was disoriented.  Various personal effects were scattered around the area.
A ground crew of rescuers accessed the man by hiking down steep, rough terrain.  Another crew launched a search and rescue boat from a nearby fishing access.  Due to the nature of the man's injuries and an anticipated length of time to reach definitive medical treatment, responding EMS personnel requested a medical helicopter transport the man to the hospital.  Rescuers had to stomp down chest high grass next to the river to create a suitable landing zone for the helicopter.  A Reach Medical Helicopter was eventually able to land and fly the patient to Bozeman Health Hospital.
Sheriff Gootkin would like to remind people to enjoy outdoor activities with at least one partner.  If you have to go alone, tell someone where you are going and when to expect you back.  You can run into trouble close to home the same as you can in the remote backcountry.