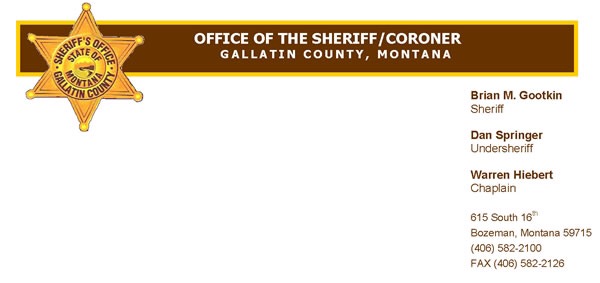 (Gallatin County, Mont.) Monday lived up to its reputation sending Sheriff's Search and Rescue to three events and three people to the hospital with leg injuries.  The first at 9:37 a.m., the West Yellowstone Police Department Dispatch center received a 911 call reporting an injured angler on the Madison River approximately 2 miles north of West Yellowstone. The angler, a 74-year-old male from Missoula Montana, had suffered a possible broken leg after a fall along the river. GPS coordinates retrieved from the 911 call indicated that the angler was located just inside the western boundary of Yellowstone National Park. Rangers in charge of the event requested the assistance of Gallatin County Search and Rescue.
Personnel from the Sheriff's Office, the West Yellowstone Division of Gallatin County Search and Rescue, West Yellowstone Police Department, Montana Department of Livestock, Forest Service Law Enforcement, and Hebgen Basin Fire Department responded to assist with the rescue.
Rescuers were able to locate the injured angler and rangers on scene administered pain management medication necessary for the transport out. The rescue required the use of a single-wheeled litter to traverse a boggy wetlands area before transferring the angler to rescue sled being pulled by a four-wheeler. It was then necessary to use low-angle rescue techniques to assist the rescuers in traversing a short distance up a steep incline. The injured angler was then transferred to a waiting Hebgen Basin Fire Department ambulance for transport to the Big Sky Medical Center for medical evaluation.
The second at 11:46 A.M. when report of a 57 year old Bozeman woman bucked off a horse on Chesnut Mountain east of Bozeman.  She was transported out by a member of her party that had gone to get a four wheeler before calling 911 so SAR resources were canceled just prior to arriving at the trail head.  She was transported to the hospital with fractured ribs and a leg injury.  The third at 1:45 P.M. for a 23 year old Bozeman man near the Bridger Ridge Trail who fell and injured an ankle and was unable to walk.  Seven volunteer rescuers hiked the 4 miles up Sypes Canyon and brought him down using a wheeled litter after using ropes to navigate a steep section of terrain.
Gallatin County Sheriff Brian Gootkin would like to remind everyone to be prepared, be careful, and be ready for the unexpected.  Knowing the terrain, wearing the appropriate gear and carrying a reliable communications device can go a long way towards safety. A seemingly minor injury can easily limit mobility enough to make it impossible to get out of the backcountry without assistance.  Photos courtesy of Gallatin County Sheriff / Search and Rescue.