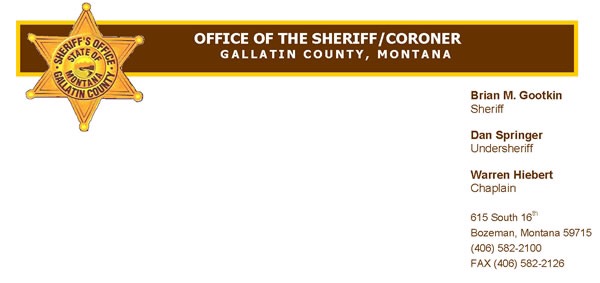 (Gallatin County, Mont.)
On Sunday morning about 8:00, the Gallatin County Sheriff's Search and
Rescue Team responded to the Bridger Ridge Trail for a backcountry rescue. A
family of three from Spokane, WA was hiking from Fairy Lake to the "M" Trail
head via the Bridger Ridge Trail.  They were photographing some mountain
goats on a cliff above them when the goats knocked some rocks loose. One of
the rocks, about the size of a bowling ball, struck the woman in the leg,
causing injury and a severe laceration, making it impossible to hike out.
The family administered first aid and, after determining they could not
climb out, called 911.
Members of the Search and Rescue Posse hiked in to the family via Ross Pass
and members of the Heli-Alpine team flew into the scene with the help of
Central Helicopters. HAM radio operators managed communications between
Sheriff's Deputy commanders, air and ground teams.  The trail is very steep
in that area. After determining that the time and exposure of a hand-carry
was too risky, the injured woman was flown off the mountain to a waiting
ambulance and then transported to Bozeman Health Deaconess Hospital. The
remaining family members were brought off the mountain by the Posse via ATV.
The hiking party was well prepared for their hike and had ample food and
water as well as headlamps for travel after dark. Sheriff Gootkin stated
"This was a pretty technical rescue for the team because of the terrain, but
most of our calls are like this.  It is people being physically active and
enjoying what this County has to offer.  Mostly we respond to good people
doing good things who have a bad day.  I don't know how you prepare for goat
assassins but I am glad we could help these folks out."
Photo courtesy of Sheriff's Office SAR