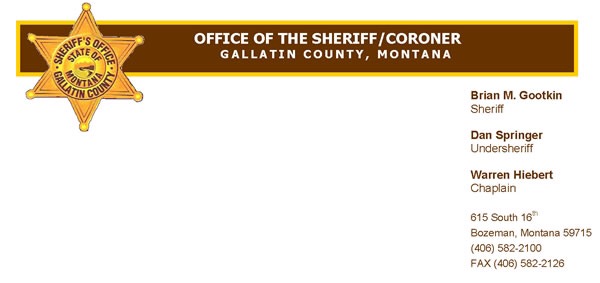 Also on July 8, 2017 a Gallatin County Sheriff's Deputy, Big Sky Fire Department, and members of Big Sky Search and Rescue responded to a report of an injured person at the Yellow Mule Trail. A 29-year-old female had suffered a sprained ankle after slipping into the West Fork of the Gallatin River. The woman was with a friend taking photographs when she slipped on a rock and fell into the river. This current swept the woman downstream and onto the opposing shore, which happen to be a cliff face. Her friend was able to contact emergency services on her cell phone.
Five Big Sky Search and Rescue members hiked to the patient and were able to assist the woman across the river. Search and Rescue members used a utility side-by-side to transport the woman to the Big Sky Fire Department ambulance at Ousel Falls Park. The woman was then transported to the Big Sky Medical Center. 
Sheriff Brian Gootkin would like to remind people that even on well-maintained trails, accidents can and do occur. By having a means of communication with you, hikers can prevent a situation from deteriorating from a simple injury to a tragic event.