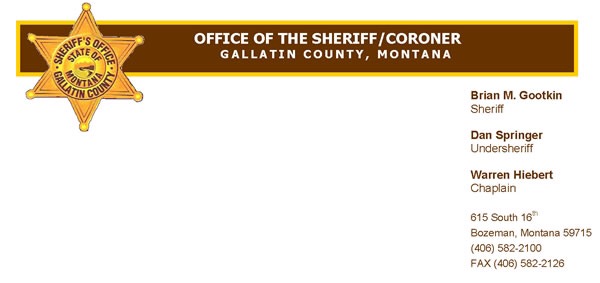 (Gallatin County, Mont.)On Saturday, July 8, 2017, at approximately 10:45 AM, the Gallatin County 911 Center received a call from International Emergency Response, a spot beacon service, regarding an injured female who was horseback. The caller from emergency response provided a latitude and longitude coordinates, (which placed the patient in Bridger Canyon near Brackett Creek), the patient's name and age (64 years old), and the patient's medical issues. The Gallatin County Sheriff's Office Search and Rescue team, American Medical Response, and a Gallatin County Sheriff's deputy were dispatched. The Search and Rescue Posse responded to the scene with AMR. HAM radio operators determined that, according to the coordinates given, the patient was approximately 2.5 miles from Bridger Canyon Road.
GCSAR Posse crew members drove a truck towards the patient's coordinates using a vehicle trail. They met another truck on the trail in which the patient was riding. The patient was transferred to the GCSAR truck and was checked by an EMT while being driven to the parking area. Upon arrival, the patient was checked by ambulance crew. Initial assessment showed that she suffered a dislocated finger, an injury to her leg, and abrasions to her arm and leg. Patient was transported to her vehicle at Bridger Bowl at her request, where she met with her husband for transport to the hospital for further evaluation.
According to the patient's husband, the patient was participating in the Back Country Horsemen's annual poker ride. She had dismounted to lead the horse across some water when the incident occurred. She slipped and fell under the horse, which spooked and landed on her and caused her injuries. She activated her spot beacon when she concluded she was too injured to continue the ride.