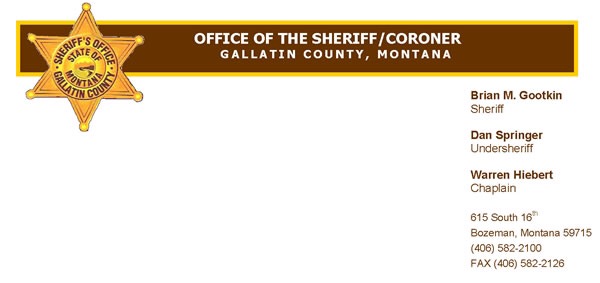 The search for a 68-year-old male from Burbank, California thought to be missing from the campsite on the Madison Arm of Hebgen Lake has concluded. His body was located underwater approximately 300 feet from the shore of Hebgen Lake near his campsite.
On June 23, 2017, Gallatin County Sheriff's Search and Rescue deployed additional resources in a continued search for the camper that began yesterday afternoon. Resources from Gallatin County Sheriff's Office Search and Rescue included the Posse, dive team, and canine teams. Additionally, a helicopter from Central Helicopters, Yellowstone National Park Rangers, Forest Service Law Enforcement, and personnel from Flathead County Sheriff's Office with specialized underwater detection equipment responded to assist with the search.
Evidence on scene indicated that the male may have entered the water in an attempt to retrieve a small pontoon fishing boat that had blown away. The cause of death is still under investigation by a Gallatin County Sheriff's Deputy Coroner.