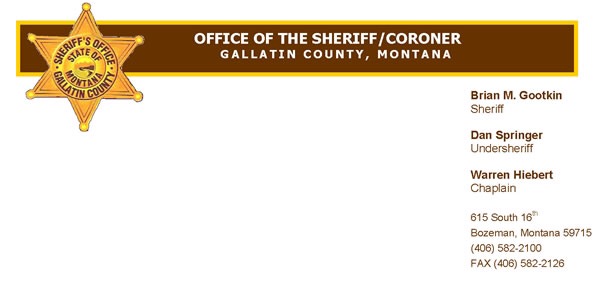 (Bozeman, Mont.) Following is the text of the prepared statement delivered by Sheriff Gootkin at todays press conference.
Please direct any additional questions or comments to 406-582-2125, or sheriff@galllatin.mt.gov.  Any updates or press releases will be available online at www.Gallatinmedia.Org.
At 5:08pm yesterday, Gallatin County Sheriff's Deputies responded to a report of an assault. When Deputies arrived, Greg Gianforte cooperated by providing an initial statement.  Upon conclusion of the statement, he left the area.  At the time that he left the premises, he was not under arrest and the investigation continued.
The Deputies recognized this would attract significant public interest, and as a result, Detectives were immediately contacted to assist with the investigation. The victim was transported to the hospital for evaluation.  Detectives responded to meet with the victim at the hospital.  Witnesses were escorted to the Law and Justice Center for interviews.
As interviews were being conducted, Greg Gianforte's attorney contacted our office. It was at this time we communicated our desire to obtain a follow up interview.  This request was later declined, and we were asked to direct all further communications to the attorney.  Every citizen is guaranteed their right to an attorney, and cannot be compelled to provide a statement.
The Detectives determined probable cause existed to issue a citation to Greg Gianforte for misdemeanor assault. The State of Montana has two Assault charges.
"Assault- a person commits the offense of assault if the person: purposely or knowingly causes bodily injury to another".  This is a misdemeanor.
"Aggravated Assault- A person commits the offense of aggravated assault if the person purposely or knowingly causes serious bodily injury to another or purposely or knowingly, with the use of physical force of contact, causes reasonable apprehension of serious bodily injury or death in another".  This is a Felony.
Serious bodily injury is defined in Montana State Statute as Bodily injury that involves:
A substantial risk of death.
Extreme physical pain.
Protracted and obvious disfigurement; or
Protracted impairment of the function of, or loss of, a bodily member, organ or mental faculty.
In this case, the victim did not sustain serious bodily injury, as defined by Montana State Statute, nor did he communicate reasonable apprehension of serious bodily injury at any time during the investigation. Reasonable apprehension is determined throughout the course of an investigation.  This is the reason why Law Enforcement conducts investigations without jumping to conclusions.
There was no existing circumstance that required immediate arrest; no threat to public safety, no further threat to the victim, and the suspect was not a flight risk. Our Deputies frequently investigate incidents similar to this. Based on the facts gathered during the investigation, through interviews, and collection of evidence, probable cause existed to issue a Notice to Appear to Greg Gianforte for the offense of misdemeanor assault, for which he is ordered to appear by June 7th in Gallatin County Justice Court.  At this time, the case has been referred to the Gallatin County Attorney's Office for prosecution.
I want to address my campaign contribution to Greg Gianforte back in March, when he announced his candidacy for US Congress. I apologize for not mentioning this in my press conference last night.  The reason it never crossed my mind was that we were busy investigating this incident.  There have also been questions and concerns that because of the contribution, there may be a conflict of interest and another agency should have investigated.  I respectfully disagree.  The citizens of Gallatin County elected me to do a job and this incident occurred in our county and was our responsibility to investigate.  The contribution made in March has absolutely nothing to do with my duties and responsibilities as the Gallatin County Sheriff or this investigation. #####