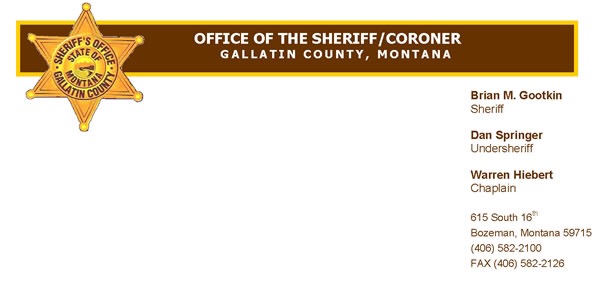 Media Release:  170516-01
Contact:  Sheriff Brian Gootkin, (406) 539-8824.
Broadwater County Deputy Sheriff Shot and Killed
Three Forks, MT – At approximately 3:00 am a Broadwater County Deputy Sheriff pursued a vehicle near the Highway 287 interchange. Dispatch lost contact with the Deputy and other law enforcement responded to discover the Deputy had been shot and killed. The suspect's vehicle was located in Butte-Silverbow County where another pursuit occurred. There were multiple incidents of shots fired during the pursuit. The vehicle was stopped in Missoula County where two male suspects were taken into custody. Broadwater Sheriff Wynn Meehan has asked Gallatin Sheriff Brian Gootkin to speak with the media initially.
###