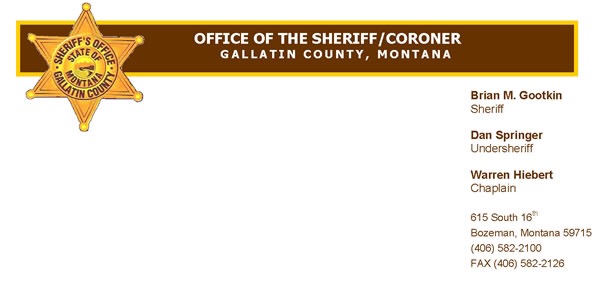 The Gallatin County Sheriff's Office is hosting a 3-day Aquatic Death and Homicidal Drowning Investigation Course beginning Saturday morning, May 13, at 8 am in room 103 of Barnard Hall on the MSU campus. The course is for Search and Rescue personnel, to include coordinators, divers and search dog teams.  Additionally, the classroom portion on Sunday and Monday will also include law enforcement investigators, patrol, evidence technicians and coroners.  The course teaches searching and investigative techniques for drownings and water related deaths.
Apart from the classroom portion for all 3 days, two field exercises are also planned for the afternoon and evening of Saturday and Sunday. Saturday afternoon beginning around 3 pm the search and rescue personnel will be conducting moving water search training related to the class at the Headwaters state park boat ramp area.
The still water exercise on Sunday will begin just after 5 pm and will take place at the East Gallatin Recreation area.
There will be approximately 30 search and rescue personnel at these two exercises, with an additional 30 investigators and coroners joining them for the classroom portions. The class consists of local search and rescue personnel/investigators as well as search and rescue personnel/investigators from throughout the state and Wyoming.
Instructors from Lifeguard Systems Inc. from New York are conducting the training.