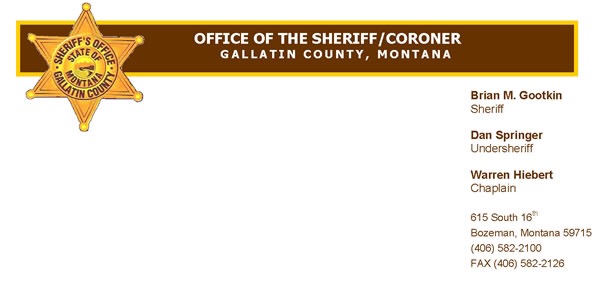 (Big Sky, Mont.) On Sunday, April 2nd  at 2:30 P.M the Gallatin County Sheriff's Office and members of  Gallatin County Search and Rescue at Big Sky responded to a backcountry rescue on Wapiti Creek in the Taylors Fork Drainage south of Big Sky.  A 23 year old female from Bozeman rolled her snowmobile off a 40 foot cliff and sustained a significant leg injury.  She was suffering from a considerable amount of pain and was not located immediately after the fall.  After finding her, the other person that was snowmobiling with her was able to start a fire, get to a high ridge and use his cell phone to call for help.
A group of nine rescuers were deployed to locate and assist the injured woman.  The rescuers were able to provide medical care and immobilize the victim so she could be transported using a towable ambulance sled via snowmobile.  She was transported to Bozeman Deaconess Hospital by a waiting medical helicopter.
The Gallatin County Sheriff's Office reminds backcountry users to use caution when in the backcountry.  Tell people where you are going and when to expect you back.  Enjoy the backcountry with other people when possible and carry a means of communication with you.