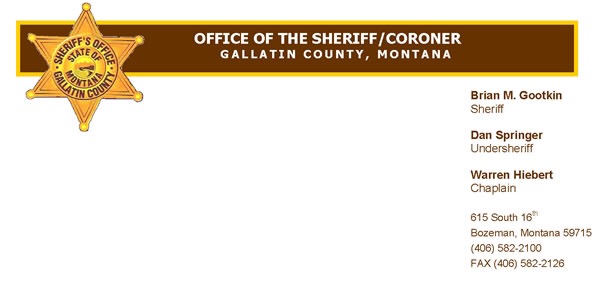 (Gallatin County, Mont.)
On March 14, 2017 at 9:00 PM a Bozeman, Montana residence called the Gallatin County Dispatch Center and reported that his wife and sister-in-law were overdue from a hike. The reporting party stated that his 25 year old wife and 22 year old sister-in-law had sent him a text around 3:00 PM telling him that they were going for a hike up New World Gulch. The reporting party told a deputy from the Gallatin County Sheriff's Office that they always returned before dark. It was unknown if the two women had any provisions for an extended stay, or food and water.
A deputy from the Gallatin County Sheriff's Office located the missing women's vehicle parked at the New World Gulch trailhead. There was no one around the vehicle. The Gallatin County Sheriff's Office Search and Rescue team was activated and responded to the scene along with Reach Air Ambulance. Members of the Search and Rescue Team used teams of skiers, tracked four wheelers and snowmobiles to search the area. Reach searched the area by air.
At approximately 11:05 PM Reach notified the incident command that they had located two individuals halfway between Mystic Lake and the Mystic Lake Forest Service Cabin on the west side of the lake. The two subjects appeared to be signaling to them by waving their arms and using the lights from their cell phones. The two subjects appeared to be uninjured.
The team of skiers continued up the trail to the coordinates provided by Reach while the mechanized teams were sent to the Sourdough trailhead with other Search and Rescue personnel. At 1:20 AM on March 15, 2017 members of the Gallatin County Sheriff's Office Search and Rescue Team located the missing women at the coordinates that were provided by Reach Air. The searchers found the women to be cold but in good health and uninjured. The searchers and women warmed up in the Forest Service cabin and then the women were brought out by snowmobile.
Sheriff Gootkin would like to remind everyone that recreating in the backcountry this time of year can be deceiving. Temperatures can be in the 60's during the day but still drop below freezing after sundown. As always, if you are recreating in the backcountry make sure you take the proper equipment and enough provisions to spend a night or two in the woods if need be.