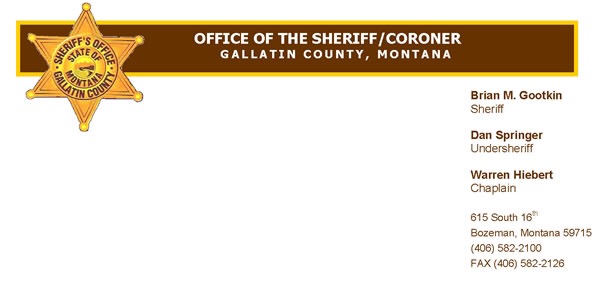 (Gallatin County, Mont.) On Saturday, March 11, 2017 at 12:01 pm., the West Yellowstone Police Department Dispatch center received a 911 call reporting a snowmobile crash on the Two Top Trail approximately 10 miles southwest of the Town of West Yellowstone. The injured party, a 48-year-old male from Idaho, had sustained a broken back when he landed hard after attempting a jump off a seven-foot cornice.
Personnel from Gallatin County Sheriff's Office Search and Rescue West Yellowstone Division, Forest Service, and Hebgen Basin Rural Fire District responded.
Rescuers met the injured party at the trailhead where he was waiting, after being transported off the mountain by his friends. The male was loaded into the back of the ambulance and transported to the hospital in Rexburg, Idaho. He was later transported to Eastern Idaho Regional Medical Center for additional medical services.
Gallatin County Sheriff Brian Gootkin would like to remind snowmobilers to be careful when recreating off trail and to know your limitations. A fun adventure into the amazing backcountry areas we have access to can quickly turn into an emergency situation. Always remember to ride with a partner and carry a reliable means of communication in case of an emergency.
Photo courtesy of the Sheriff's Office.