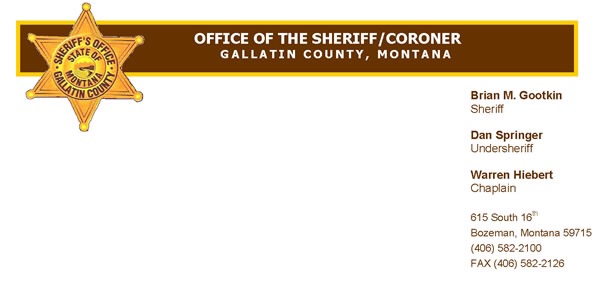 On March 9th, at approximately 9:10 PM, the Gallatin County Sheriff's Office received a call from a concerned father who reported that his adult son had gone hiking in the Beehive Basin area around noon and had not returned. The caller said he had recently spoken to his son by phone and his son seemed to be in a high anxiety state and was mumbling.  The son said he was tired, very cold, and unable to start a fire.  His light also stopped working.  Based on the conversation he had had with his son, the father felt like he was in need of assistance.
Due to his stressed condition, the time of day, and the current falling snow the Gallatin County Search and Rescue was requested. A hasty team was formed and sent to the trailhead where a Gallatin County Deputy met them at the son's vehicle.  As SAR personnel arrived at the trailhead to begin the search the caller's son walked out from the trailhead.  He appeared tired and hungry but, in good condition.
Sheriff Gootkin would like to remind everyone that weather conditions this time of year can change quickly so be prepared with communication, warm clothing and water before you venture out into the backwoods.