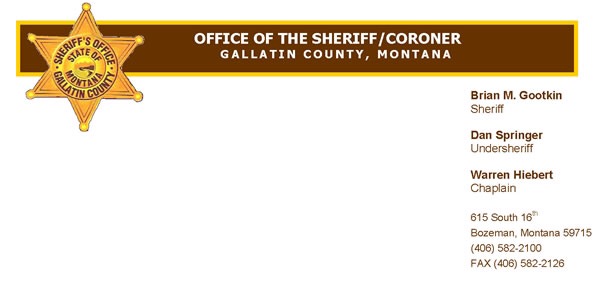 On Friday, February 24, 2017 at 12:35 pm., the West Yellowstone Police Department Dispatch center received a 911 call reporting a snowmobile crash on the Cougar Creek Trail approximately five  miles northeast of the Town of West Yellowstone. The injured party, a 55-year-old female from North Carolina, had sustained a leg, groin, and hip injury when her snowmobile hit a dip in the trail and she was thrown into a tree.
Personnel from Gallatin County Sheriff's Office Search and Rescue West Yellowstone Division and Hebgen Basin Rural Fire District responded.
Rescuers quickly located the female, packaged her onto a rescue sled and transferred her to a Hebgen Basin Fire Department Ambulance staged at the trailhead off of Highway 191. The female was transported to the hospital in Rexburg, Idaho.
Gallatin County Sheriff Brian Gootkin would like to remind snowmobilers to monitor their speeds when traveling over rough or unfamiliar terrain.  Please pay particular attention to icy and uneven areas as they can quickly cause loss of control of the sled.  Always remember to ride with a partner and carry a reliable means of communication in case of an emergency.
Photo courtesy of the Sheriff's Office.