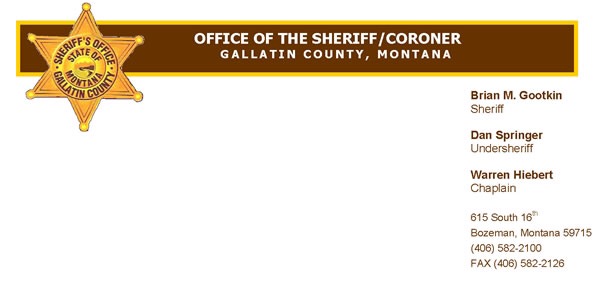 Sunday evening at 6:31 p.m., the West Yellowstone Police Department Dispatch center received a 911 call from a group of 7 snowmobilers who had gotten turned around and were unable to find their way back to West Yellowstone. The reporting party also indicated that one of the individuals in the party may be experiencing the beginning stages of hypothermia.
GPS coordinates retrieved from the 911 call provided a location of approximately 2 miles southwest of West Yellowstone in a canyon next to the South Fork of the Gallatin river.
Personnel from the Sheriff's Office Search and Rescue West Yellowstone Division responded.
Using the GPS coordinates, rescuers were able to locate the snowmobilers who had abandoned three of their snowmobiles after getting them stuck. All seven snowmobilers, who were wet and tired but otherwise uninjured, were escorted safely back to West Yellowstone.
Gallatin County Sheriff Brian Gootkin would like to remind snowmobilers that proper equipment and a thorough understanding of the area you're entering are paramount to having a safe, enjoyable trip.  Respect the rapidly changing weather conditions and time. Visibility can easily be substantially reduced making it easy to become disoriented.  A basic survival kit containing food and water can save your life should you become lost.