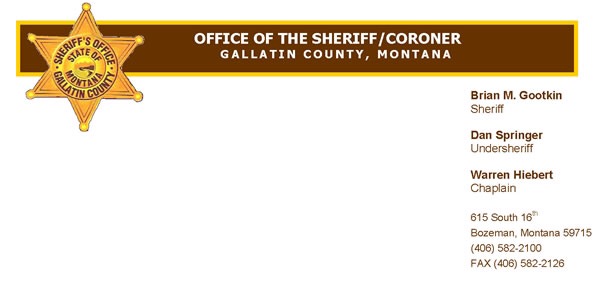 (Gallatin County, Mont.) On Sunday, February 19, 2017 at 10:12 a.m., the West Yellowstone Police Dispatch center received a 911 call from a local snowmobile rental company reporting an injured snowmobiler on the Two-Top Trail 4 miles Southwest of West Yellowstone.
The snowmobiler, a 62 year old woman from Florida, had sustained a lower back injury when the snowmobile she was a passenger on went over some large bumps causing her to lose her balance and be impacted vertically by the snowmobile. 
Sheriff's Office Search and Rescue, West Yellowstone Division and personnel from the Hebgen Basin Fire Department responded.
Rescuers arrived on scene and quickly packaged her onto a rescue sled. She was transported to a waiting Hebgen Basin Fire Department ambulance and transported to the Big Sky Medical Center in Big Sky.   
Gallatin County Sheriff Brian Gootkin would like to remind snowmobilers that passengers should be carried only on snowmobiles designed for two passengers, which have a longer seat behind the driver, as well as rear handgrips for the passenger. Always operate responsibly, at speeds which will allow safe maneuvering when avoiding obstacles on or off trail.
Photo courtesy of the Sheriff's Office