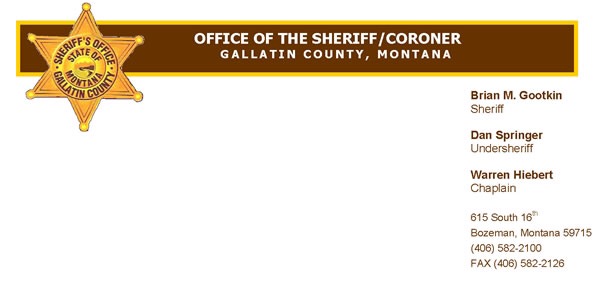 (Gallatin County, Mont.)
On Tuesday, February 14, at 5:48pm, the Gallatin County Sheriff's Office and Gallatin County Sheriff's Search and Rescue responded to a backcountry search. A forty-five year old Bozeman man was riding a motorized snow bike with his two dogs in the area of the Little Bear Cabin when he became disoriented.  He used his cell phone to call for help when he could not find his way back to his truck.  Using software from the man's phone, searchers were able to pinpoint the man's location.  Rescuers then drove snowmobiles to his location and escorted him and the dogs back to his truck.
Sheriff Gootkin would like to point out a couple factors that helped ensure this was a successful search and rescue event.  The man carried a means of communication with him and called for help when he ran into trouble.  The man also stayed in one place as directed by searchers, even though the weather was cold and darkness was setting in.  This ensured searchers could maintain communications with him and that he did not end up in further trouble.  Sheriff Gootkin would also like to remind people to be prepared to stay in the backcountry for the night no matter the time of year.