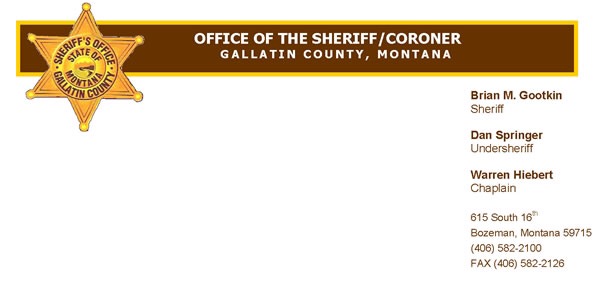 (Gallatin County, Mont.) On Friday January 20, 2017 at 12:59 pm, a local West Yellowstone snowmobile rental company contacted a Forest Service Law Enforcement Officer to report that one of their customers had been involved in a snowmobile accident and had suffered a knee injury. The reporting party indicated that the operator of the snowmobile was unable to ride out on his own. The Forest Service LEO, who is also a member of Gallatin County's Search & Rescue unit, contacted a SAR rescue coordinator. Within a short period of time, a fairly accurate location of the incident was established, indicating a backcountry area off the Two Top snowmobile trail approximately 10 miles southwest of the Town of West Yellowstone.
Personnel from the Gallatin County Sheriff's Office, the West Yellowstone Division of Gallatin County Search and Rescue, National Forest Service, and Yellowstone National Park responded to assist with the rescue. The terrain and snow conditions provided rescuers with difficult challenges in getting to the injured party. When rescue personnel arrived on scene, it was quickly determined that the 18-year-old injured male from Wisconsin had a much more serious injury than initially reported. The male in fact had a broken right femur and was in a substantial amount of pain. Rescuer personnel requested a rescue helicopter be brought in to a landing area near the patient; however, weather conditions prevented the helicopter from flying to that location.
The rescue team then placed the male in a full body compression splint and loaded him onto a specialized rescue sled. The team determined that they could not get the patient off the mountain the same way they had come in, so another route was navigated, including an area where the rescue sled was hand lowered. Rescuers were eventually able to make it back to a groomed trail and headed into Idaho to rendezvous with the rescue helicopter; which was able to make it to a landing zone approximately 10 miles away. The injured male was then transported by Life Flight Network personnel to the Eastern Idaho Regional Medical Center.
Gallatin County Sheriff Brian Gootkin would like to remind snowmobilers to know their limitations and the limitations of their snowmobiles, and stay on marked trails. The off trail areas are unmaintained and can be full of unseen hazards. Be alert for hazards such as tree wells, hidden stumps & creek bottoms, which can be unpredictable and unforgiving. Always let another member of your group know if you venture off trail keeping in mind that the most dangerous situations can occur if you get injured when you are alone. Photo courtesy of the Sheriff's office.