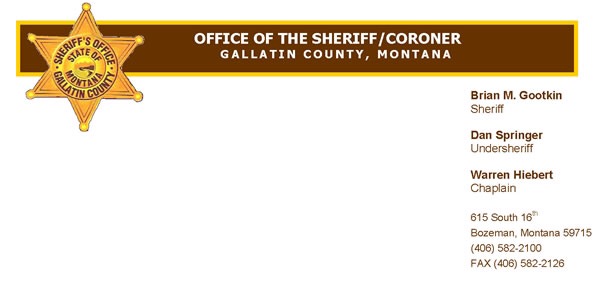 (Gallatin County, Mont.)  On November 26, 2016 a male suspect entered Casey's Corner Gas station in Four Corners near Bozeman Montana. The suspect walked through the store and into the bathroom where he remained until the store was empty of patrons. The suspect then dawned a ski mask seen on his head and detained the store clerk in a back room with two 12-inch kitchen knives.
The suspect was in the store over 15 minutes until the crime was complete. The suspect exited the back of the store when a patron entered. It is believed the suspect ran past the Carriage House Car Wash and or Summit Motor Sports to an unknown location/vehicle.  The Sheriff's Office is releasing the following photos in hopes someone will recognize the suspect.  Two photos show the suspect wearing a stalking cap on their head and two photos were captured of the suspect immediately after removing the cap partially revealing the suspect's face.
Anyone with information is encouraged to call the Gallatin County Detective Division at 406-582-2121 or Crime Stoppers at 406-582-1131. You may remain anonymous. Persons providing information leading to the apprehension or conviction of suspect(s) could be eligible for a reward.