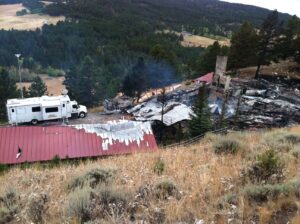 Press Release – for immediate release 10-6-2011
(Bozeman, Mont.) Bridger Canyon Fire Fighters were called to the 4000 block of Jackson Cr. Road this morning at 1:17 a.m. for a reported explosion and fire in a residence.  Bridger Canyon  Fire Chief Dan Astrom states that he was on the scene within about 10 minutes and found a large home with it's walls blown out and well involved in fire.  Efforts to fight the fire were hampered by a long narrow driveway and limited water supply.  The fire was declared under control at about 5:00 this morning.  Neighbors reported hearing and feeling the explosion as far away as 4 miles.  One person is reported to have perished in the residence.  A cat and the garage were saved from the fire. 
Bridger Canyon received assistance from Ft. Ellis, Central Valley, Bozeman, RaeDough and Manhattan Fire Departments, The Salvation Army and Northwestern Energy. 
The event is being investigated by Sheriff's Office Detectives with assistance from Bozeman Police, the State Fire Marshall's Office and the ATF.  The Office of the Sheriff/Coroner will do a press release later in the day regarding the fatality. 
Chief Astrom reminds rural residents to be sure to maintain rural water sources.  Good water supply makes the difference between good and bad outcomes on structure and wildland fires.
Photo courtesy of Bridger Canyon Fire Figher Cody Wetmore ####