WHEN: Friday, August 14, 2015 at 5:30pm
WHERE: Community room at the detention center, 605 S. 16th Ave., Bozeman, MT 59715
WHO: Public is invited.
For the past twenty-five years Gallatin County has been served by a single chaplain. The chaplain corps has been expanded to better serve the growing law enforcement and first responder communities and their families, and the people of Gallatin County.
These chaplains serve at professional standards giving strength and compassion to others.
A chaplain is a person of faith, holding credentials in their denomination and approved by their denominational leadership for chaplaincy service. The chaplains give their service to the Gallatin County Sheriff's Office and other law enforcement, and first responder agencies at no charge. The chaplains' responsibilities are to assist law enforcement and the broader first responder community and their families, upon request, in matters within the chaplain's professional realm. The chaplains have been trained, at their own expense, in: ministry, ethics, cultural competence, crisis, ministry to crisis victims, ministry to department personnel and their families, ceremonies and events, stress management, incident command system, on scene operations, substance abuse, suicide intervention, post-vention and assessment, death notification, line of duty death and serious injury, chaplain preparedness, and chaplain safety. A chaplain understands the emotional and physical risks involved in their service and serve at the direction of the sheriff.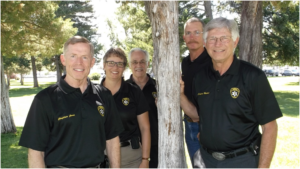 Left to right: Chaplain Randy Jones, Chaplain Kathi Gregoire, Chaplain David Young, Chaplain Tim Dolan, Lead Chaplain Warren Hiebert. Not pictured: William Johnson
This Friday there will be three new chaplains sworn in and two more will be sworn in later in September. The new chaplains are: Tim Dolan, Kathi Gregoire, Randy Jones, William Johnson, and David Young. Warren Hiebert will continue to serve as lead chaplain. We invite everyone to come and meet their new chaplains.