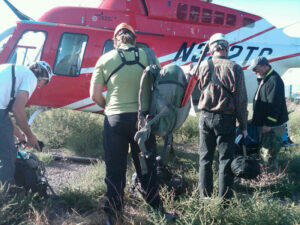 Sunday, September 4, 2011
Update at 12:15 a.m.
(Bozeman) – An skier injured on the east side of the Bridger Mountains was safely transported to Bozeman Deaconess Hospital Saturday night thanks to the efforts of Gallatin County Search and Rescue workers and the U.S. Air Force.
   A 19 year old male, with three other companions, was injured Saturday afternoon following a 1,000 foot slide on the east slope of Sacajawea Peak on a chute that holds snow most of the year, known as 'The Great One', located north of Bridger Bowl south-east of the Fairy Lake campground.
   One of the injured skiers' companions was able to call 9-1-1 with his cell phone and reported the incident at 4:45 p.m. Saturday afternoon.
     GCSO Search and Rescue units on the ground at Fairy Lake coordinated their efforts with six members of the SAR Heli-Rescue Team flown to the mountain-top by Carisch Helicopter Service. The Heli-Rescue Team, all expert climbers, included a Physician's Assistant and an Emergency Medical Technician, hiked down to the injured skier and stabilized the patient.   
   Due to the nature of the conditions on the mountain and the condition of the patient, SAR officials determined that they needed to transport the patient by air.  The area is very steep, rocky and extremely difficult to move around in.  At the same time, with the sun going down and temperature dropping, the call was made to Malmstrom Air Force Base to bring in a helicopter with a hoist, night vision capability and a flight nurse. 
   "We were concerned about how quickly we were loosing the sunlight," said Incident Commander Sheriff's Sergeant Alex Fuller.  "The overnight forecast was for chilly temperatures and we didn't want folks on the mountain if we could prevent it."
   The patient was flown to Gallatin Field Airport at 11:59 p.m. for transport by ambulance to the Bozeman Deaconess Hospital Emergency Room. 
   "It was a long night, but we had a good outcome," said Sgt. Fuller.  "Thanks to a cell phone and some hard working volunteers, the patient is now getting the care he needs at BDH."
   Sgt. Fuller says this incident is a good chance to remind back-country travelers that an ounce of prevention really is worth a pound of cure.  "When you're out there, a short trip can turn into a long day very quickly.  Be prepared with extra clothing, water, food and a way to make a fire." 
   Sheriff's SAR Commander Lt. Jason Jarrett said that there are many places in Gallatin County that are relatively close to town but are still very remote and challenging to get to or evacuate people from if they are injured.  It can be frustrating to be able to almost see the hospital but not be able to get there until the next day.  
   Lt. Jarrett reminds outdoor enthusiasts that there is no guarantee of receiving help quickly in the back-country.  Our Rescue teams are very capable but the public needs to understand that some of these incidents will be all night and into the morning affairs. 
####