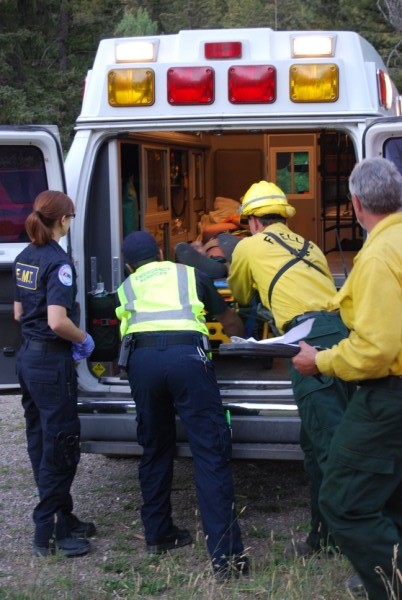 Mass Casualty Training
August 17, 2011
(Fort Ellis, MT.) – More than 40 volunteers from several local agencies spent a warm summer evening in the hills above Bozeman Tuesday preparing for the worst and working to bring about the best results.
          First responders from across the county joined forces to care for nearly two-dozen individuals who "suffered" a variety of injuries during a simulated wild-land fire at the Bear Canyon Trailhead. 
  "These sorts of incidents don't happen often," said training supervisor Fred Cady.  "But we need to be ready for them.  This was a good learning experience."
 Fort Ellis Firefighters, Paramedics from Bozeman Fire and AMR, Bozeman Deaconess Hospital workers and members of the Gallatin County Sheriffs Office triaged the 'patients', stabilized them and then shuttled the individuals with ambulances and a bus to BDH.
"Communication, cooperation and capability must be combined to handle every type of incident, but especially when you're dealing with many patients at once," said Cady.
"No one agency can handle a big event," said Buck Taylor of Fort Ellis Fire Department.  "That's why we train together.  You learn about each other's abilities and you learn that by working together we serve the community better."
 "The more we train," said Taylor.  "The better the results we can produce for our customers, our neighbors and our friends." 
 Event organizers extend their thanks to the students and administration ofMountEllisAcademyfor their cooperation, along withBozeman DeaconessHospital. 
 ####
 Photos Courtesy:   Bozeman Fire Department and Gallatin County Sheriff's Search and Rescue