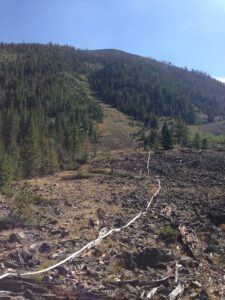 ICP Open House:
The public is invited to attend an open house at the Incident Command Post (ICP) for the Miner Paradise Complex on Wednesday, August 28 at 5 p.m.
The guided tour will begin promptly at 5 p.m. and last until approximately 7 p.m. The tour will cover the majority of functions within camp which supports the firefighting efforts and is homebase for almost 500 fire personnel. If interested, call (406) 333-9971 or (406) 333-9961, confirming your attendance, but an RSVP is not required. All are welcome. Directions are on Inciweb. http://www.inciweb.org/incident/3657/
Fire Update:
Tuesday afternoon on the Emigrant Fire, crews are completing direct line construction on the southwest corner of the fire in Big Pine Basin and are continuing contingency lines to the south and east of Emigrant Peak and north of the North Fork of Sixmile Creek drainage. Crews are also constructing direct fire line and working hot spots on the eastern corner of the fire.
On the Sheep Fire crews are continuing with mop up on the north and east edges of the Sheep fire.
On the Horsetail Fire, fire crews continue to construct contingency lines to the north along Flanders Creek and East Fork of Hyalite Creeks.
North Eightmile Fire is being monitored by aircraft and earlier Tuesday morning interior smokes were seen in the North Eightmile fire. The fire is unstaffed on the ground.
Cumulus cloud buildup is present over the fires this afternoon. With this weather, there is a possibility of thunderstorms this afternoon and evening, producing scattered showers, gusty outflow winds and lightning.