Miner Paradise Complex Afternoon Fire Update 8-25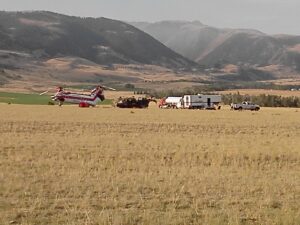 Park County 911 encourages residents to sign up for Emergency notifications with your cell at: www.livingstonmontana.org and www.parkcounty.org
As of August 22, Park County has implemented a burn ban for all outdoor burning.
Stage 1 Restrictions for the Gallatin National Forest including the Absaroka Beartooth and Lee Metcalf Wilderness areas and Beartooth District of the Custer National Forest (excluding the Absaroka-Beartooth Wilderness, Custer National Forest). Find additional information at: www.firerestrictions.us
FIRE UPDATE:
Over the fire area, wind gusts this afternoon are around 25 to 30 mph in exposed areas. Low level cumulus clouds may produce sprinkles this afternoon, however no thunderstorms have been observed in the Miner Paradise Complex.
Currently on the Emigrant Fire, firefighters are continuing to go direct on the fire edge from the Little Pine Creek and into Big Pine Basin. Crews are mopping up the northern perimeter and working on contingency lines in Emigrant Creek and Mill Creek utilizing natural features including avalanche chutes and rock scree. On the Sheep Fire, firefighters are working towards finishing direct line construction on the northwestern edge of the bowl and continuing to mop-up along Horse Creek. Crews on the Horsetail Fire are working on containment lines to the north in the bottom of Flanders Creek and the East Fork of Hyalite Creek. In the North Eightmile crews continue to mop-up further into the interior securing the northern edge successfully keeping the fire out of the Bozeman Creek drainage.