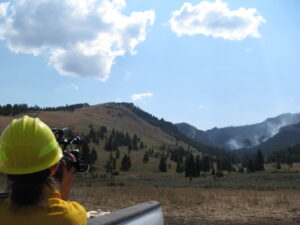 Special Order for the Custer and Gallatin National Forests:  Fire Restrictions
See attached Order for Fire Restrictions with locations noted in Attachment A of Order.  Restrictions are effective at 0001 a.m. Mountain Daylight Time on Saturday, August 24th, 2013. 
Complex Update
North Eightmile Fire:  Not a lot of activity, still working on spots along the north edge of the ridge above Bozeman Creek.  Crews are making good progress.
Horsetail Fire:  Not showing a lot of activity, majority of activity is down on the Flander's Creek side.  Crews are brushing out existing roads and trails and prepping to engage the fire.
Sheep Fire:  Good progress is being made along Horse Creek with hand crews and heavy equipment.  Crews are prepping control lines and monitoring fire advancement in the northern bowl.
Emigrant Fire:  Crews are making good progress on both direct line construction and contingency lines on the western edge of the fire.  Firefighters are scouting for opportunities to engage the fire along the northern edge.