Release:  161228-01
Contact:  Patrick Lonergan, (406) 582-2395
Gallatin County Capable of Wireless Emergency Alerts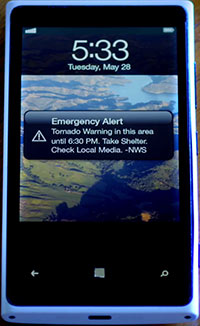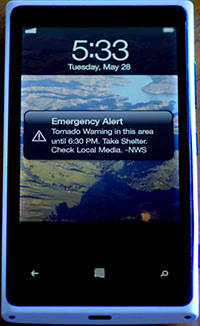 Bozeman, MT – With the arrival of the Community Notification System Gallatin County is now one of only a handful of counties in Montana that can generate Wireless Emergency Alerts (WEA) during an emergency.  WEA's allow emergency officials to send emergency messages to any cell phone in a defined area without the need for cell phones being registered or downloading an app.  This operates in the same way as AMBER Alerts where the phones will alert and display an emergency message.
Patrick Lonergan, Gallatin County Emergency Manager explains, "This is a great step forward in alerting with our ability to activate an alert on any cell phone in the alerting area.  Now we can reach out to visitors, as well as residents who have not registered in the Community Notification System."  While Wireless Emergency Alerts bring a great advance in alerting to the county, the system is not perfect and is still being refined by industry and the Federal Emergency Management Administration.  Limitations in the message length, content and size of the alerting area currently exist with WEA.  Many of these limitations are currently under revision and will likely be refined over the next couple years.
Despite the ability for agencies in Gallatin County to send a WEA message to cell phones, we still encourage all residents to register with the Community Notification System at http://alerts.readygallatin.com.  The best way to ensure you and your family are alerted is to register with the Community Notification System as WEAs are generally only used for large wide spread events.  "Wireless Emergency Alerts are great at reaching large numbers of people in widespread emergencies, but until the WEA system is refined over the next couple years the best bet to ensure you are alerted for an emergency is registering directly in the Community Notification System." according to Patrick Lonergan.
While WEAs appears to many like a fancy text message, it is actually much more complex.  Wireless Emergency Alerts became possible in Gallatin County with the new Community Notification System and its integration with FEMA's Integrated Public Alert and Warning System (IPAWS).  IPAWS is a collaborative system that allows authenticated users to generate emergency messages and instantly hand those off as a verified message to a multitude of partners for distribution.  When the cellular providers receive the verified message they automatically send the message as a Wireless Emergency Alert to all the cellular phones currently associated with a cell tower in the defined alerting area.  To avoid system overload the WEA messages are sent as a single message that all cell phones receive at the same time rather than a specific message to each phone.
###