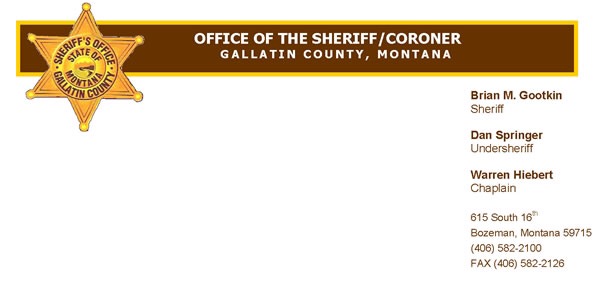 (Gallatin County, Mont.) The night before Thanksgiving was a busy one for search and rescue in Gallatin County.   Gallatin County Sheriff's Search and Rescue responded to two simultaneously occurring back country searches.  At 7:15 pm, searchers responded to the Fairy Lake area of the northern Bridger Mountains.  A group of backcountry snowboarders had lost contact with a 22-year-old male member of their group about four hours earlier.  The reporting party was only able to contact help via text message due to very limited cell phone coverage in the area.
Then at 7:38 pm, searchers responded to a lost 35-year-old hunter in the upper Moser Creek drainage in Hyalite Canyon.  The hunter, who reported being cold and lost was able to message a friend.  The friend called for help from search and rescue.  Poor cell phone contact also hampered efforts during this search.
A winter storm and darkness created hazardous conditions for both searches.  Helicopters were unable to fly due to the weather, so ground teams responded to both search areas.
After battling almost impassable roads into the Fairy Lake area, hikers and skiers started searching in heavy snowfall.  The missing snowboarder was able to find his way out to the Fairy Lake Road a short while later and was picked up by searchers around 10:30 pm.
The hunter was able to make contact with searchers via intermittent text message.  Once he had stopped moving and built a fire, he was able to screen shot his cell phone's compass app which showed his GPS coordinates.  He texted the screen shot to searchers.  Searches were then able to move directly to his position by foot and four-wheeler.  He was finally located around 11:27 pm.
Both lost subjects were cold but otherwise ok.  Sheriff Gootkin would like to remind everyone that even during the winter months, people enjoying the backcountry should be prepared to spend the night outdoors.  Have appropriate clothing and equipment and carry a means of communications.  Helpful hint; cold saps battery life.  Keep your phone next your body to keep the battery warm.  Let others know where you are going and when to expect you back, and it is always a good idea to enjoy backcountry snow activities in groups.