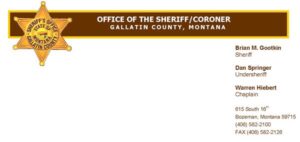 Around 2 pm on May 28, 2018, a resident who lives along the Gallatin River in Gallatin Canyon observed a yellow pontoon-type boat float down river upside-down and without anyone around it, and called 911.
Numerous Gallatin County Sheriff's Search and Rescue members from the Valley and Big Sky responded to the area in an attempt to locate the boat's owner. The boat owner was located near the Lava Lake bridge; he was uninjured and had been out of the river for quite some time. The boat was removed from the river by other recreationalists and Search and Rescue members downriver.
Gallatin County Sheriff Brian Gootkin would like to remind everyone to carry appropriate gear when floating the river. If you are separated from your boat, get to shore as quickly as possible and have someone relay your condition and a description of your boat to Gallatin County Sheriff's Office as soon as possible.