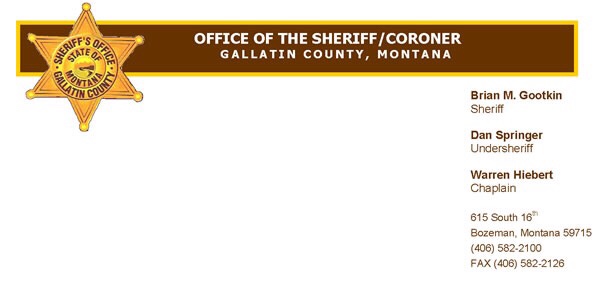 On February 20, 2018 at approximately 4:33 p.m. West Yellowstone Police Department Dispatch received a 911 call from a snowmobiler reporting that he and three others had become turned around while snowmobiling in a deep canyon somewhere near Lion's Head Mountain  approximately 13 miles west of West Yellowstone. The snowmobilers reported that they were stuck, tired, cold and unable to find their way out of the deep ravine.
Rescuers from the Sheriff's Search and Rescue in West Yellowstone, Yellowstone National Park and the U.S. Forest Service responded to assist with the rescue.
While rescuers were trying to find their way into the ravine through steep and technical terrain, the reporting party contacted dispatch and indicated that three members of his party riding snowmobiles had left him and headed out to the trailhead. He indicated, however that he was still stuck, had a broke down timber sled and was now alone. The snowmobiler had started a fire and was waiting for rescuers to get to him. The three snowmobilers were located at the trailhead by a Yellowstone National Park Ranger a short while later. They indicated that they had planned on contacting Search and Rescue when they got out to the trailhead.
While speaking with the three snowmobilers, from Appleton Wisconsin, the Ranger was approached by a second group of snowmobilers from Minnesota who indicated that a rider in their group had discovered the stranded snowmobiler however had been unable to get down to his location. Several members of that group went back into the ravine to assist him in getting out.  A short while later, the Minnesota group returned with the snowmobiler. They had managed to reach the stranded snowmobiler and assist him out of the ravine. The stranded snowmobiler, a resident of West Yellowstone later indicated that due to the deep snow and technical steep terrain, along with mechanical problems, he had been forced to leave his machine in the ravine with plans to return later and retrieve the machine.
Gallatin County Sheriff Brian Gootkin would like to remind snowmobilers to stay with your group and avoid leaving anyone behind. The harsh weather combined with severely cold temperatures could easily spell disaster for someone left out alone. Staying in a group in this case would have proven invaluable to the rescuers by providing better direction and ease of locating the stranded snowmobiler.