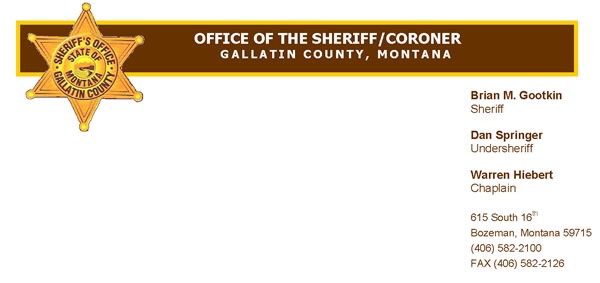 At approximately 2:00 am on Sunday, September 10, 2017, the Gallatin County Sheriff's Office responded to the area of Sourdough Road and Goldstein Road for a report of gun shots fired.  An errant bullet entered a residence after ricocheting off of a road sign.
The Gallatin County Sheriff's Office believes the shots were fired from a moving vehicle and are asking any witnesses to come forward with information related to this incident.  This reckless act could very well have cost someone their life; the bullet entered dangerously close to the homeowners.
Anyone with information regarding this event are encouraged to call the Gallatin County Sheriff's Office, Detective Division at 406-582-2121.  Information leading to the arrest of the suspect(s) may be eligible for a Crimestopper reward.