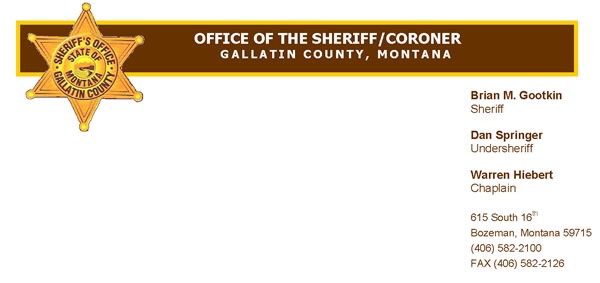 On Monday, July 24th, 2017, a little after 2:00 pm, the Gallatin County Sheriff's Office, Gallatin County Sheriff's Search and Rescue, a Rocky Mountain Rotors Helicopter, a Life Flight Helicopter, and an American Medical Response (AMR) ambulance responded to a backcountry rescue.  Two 24-year-old males were driving a side-by-side ATV on a jeep trail north of Flathead Pass in the Bridger Mountains when the ATV caught fire.  The fire spread so rapidly that the driver was unable to get out of the ATV before being severely burned over a large portion of his body, including his face, arms, and legs.  The other male was unable to call for help because they were out of cell range.  He was, however, able to get a text message to another friend requesting help.
While ground crews worked their way across difficult terrain toward the scene from both the west and east side of the mountains, the two helicopters searched the area from the air.  The helicopters eventually found the scene from a distance after seeing the large burnt spot left by the ATV fire.
The Rocky Mountain Rotors Helicopter dropped a two-man rescue crew near the victim.  The crew provided first aid.  The Life Flight Helicopter, which is considerable heavier than the Rocky Mountain Rotors helicopter, could not safely land near the victim due to the altitude and hot weather.  The Life Flight Helicopter set down at a landing zone about a quarter of a mile away.  The Rocky Mountain Rotors Helicopter then shuttled the victim to the Life Flight Helicopter.  The Life Flight Helicopter flew the patient to Bozeman Health Hospital.
Search and Rescue ground crews inspected the burnt area around what little was left of the ATV.   The scene was no longer actively burning, but there were still hot spots and smoldering vegetation.  The scene was turned over to the Forest Service for fire activity mop up.
Sheriff Gootkin would like to remind people to try text messaging even if they are out of voice call range.  Often times the text message will go through where there is no voice call coverage.  Most phones will tell you if text has been successfully sent.  If you run into trouble and can request help via text message, be sure to include your location and the nature of the problem.  Stay where you are so rescuers can communicate with you via text message.