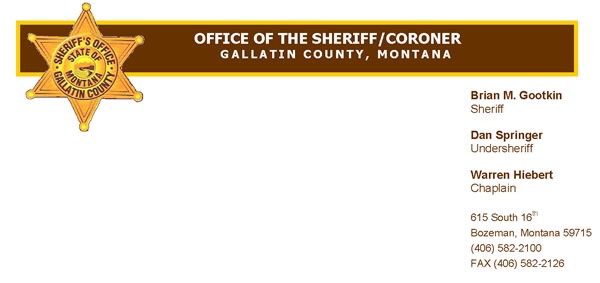 (Gallatin County, Mont.)
A fall on Ross Peak North of Bozeman sent Sheriff's Search and Rescue volunteers and Deputies into action Tuesday afternoon about 3:00 P.M. Rescuers were dispatched to the area for a report of a male who had taken a fall while climbing. He injured his head and was unconscious.
Members of the Gallatin County Search and Rescue Posse headed to the scene immediately and began reaching the area with a ground crew. Members of the Heli Team inserted a small crew and short hauled (attached to a litter on a rope under the helicopter) the 18 year-old Bozeman resident to a waiting air ambulance from Air Idaho.
The male had regained consciousness and most levels of awareness. He was flown to Bozeman Deaconess Hospital where he is being treated for severe head trauma.
The man stated that he hiked up the trail toward Ross Peak. He and his brother then scrambled over rock in hopes of reaching the summit. The male stated that a hand hold broke and we went tumbling downhill.
This rescue was completed in a remarkablly short time of about two and a half hours – from the time of the report to the time the male reached definitive healthcare. This is all due to the skill and dedication of all involved: The GCSO Posse, Heli, and Ham Radio teams, and the support of Air Idaho.
Sheriff Gootkin would like to remind all outdoor enthusiasts that accidents in the backcountry can be complex and time consuming. Not all rescues are handled this quickly. The outcome of this incident could have been a lot different.
Photos courtesy of Sheriff's Office